I have a friend who lives down in Aid, an hour south of Duke City. Much like myself, he has a fascination with growing things and regularly plants gardens. He also tends to move frequently, abandoning his gardens before they can provide him with much. Last weekend I got a chance to go visit him, just after his birthday. I thought a nice present might be a pot planted with a small tomato and herbs.
When I brought the idea up over lunch, he was enthused, but didn't show a particular interest in the pot. Instead he wanted his plants in the ground. We took a look at his place, evaluating it's potential, and at the selection of seeds and plants that the small city's stores could provide us and came up with a plan.
There was a deserted flower bed in front of his house which he wanted full of flowers. There was an empty side yard he thought should be full of produce. There were also some trellises affixed to the fence bordering his backyard that he thought needed adornment. The soil, of course, was little more than sand. Having one afternoon, no tools besides a
folding shovel
and a broom handle, and a small budget, this present had become quite a challenge. At the local Walmart we grabbed some seeds, a flat of marigolds, as many bags of soil amendments as I thought I could buy, and a seed starting kit for the vegetables that couldn't be planted yet.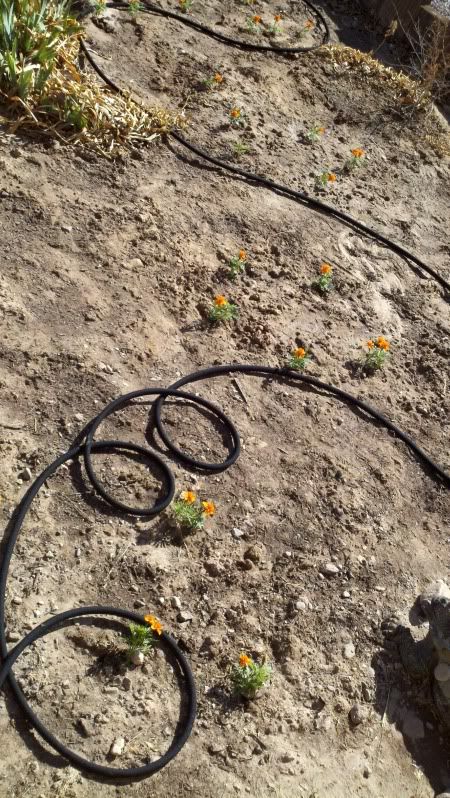 We dug up the flower bed in the front, weeding and turning in bags of soil as we went. Marigolds were spaced out and planted, as was a packet of Nasturtium seeds. The Marigolds looked looked like the best plants for taking some heat and neglect. I've never grown Nasturtiums I've been wanting to try them (since I've read that they're edible) and their color matched the Marigolds. The bed looks a little sparse right now but I hope that once the seeds sprout it will fill in and look rather cheery.
The side yard had a small circle dug up and lettuce seed broadcast into it. I surrounded it with some stones so that my friend would know which part of the sand pit to water. The trellises along the back got some blue morning glory seeds planted beneath them. My last apartment had some Morning Glories climbing up the fence during the summer, which I though were very nice until I visited the Botanical Gardens and saw their bright blue variety. They were stunning and hope these do just as well for my friend.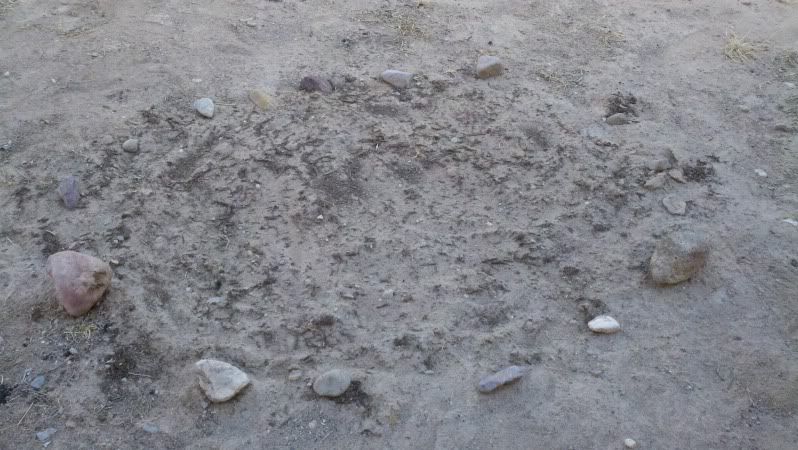 Inside, drinking water and cooling down, we prepared the seed starting tray. Twelve peat pellets were planted with Garlic Chives, twelve with Sweet Basil, and twelve with Flat-leafed Parsley. A full thirty-six got divided between Roma Tomatoes and some slicing hybrid that I can't recall. I've never had much luck with those seed starters so I can't hazard a guess at how many plants it will actually produce. However, my friend says there's no such thing as too many tomatoes. I would love to see him in August if all thirty-six reach maturity.