Yesterday, in the aftermath of the first precipitation we've have in months, I went out to take stock of my little plants. Most of them are doing great. I'm suspect that this will be a good year.
There's nothing quite like peas. They are the heralds of spring! They grow before most of the other vegetables and the way the seem to stretch up toward the sky lift my heart. There are about seven plants in each pot and as usual, I'm afraid I over planted a bit. The peas in both pots seem to be doing great though. A few of them have grabbed hold of the tomato cage I stuck in their pot.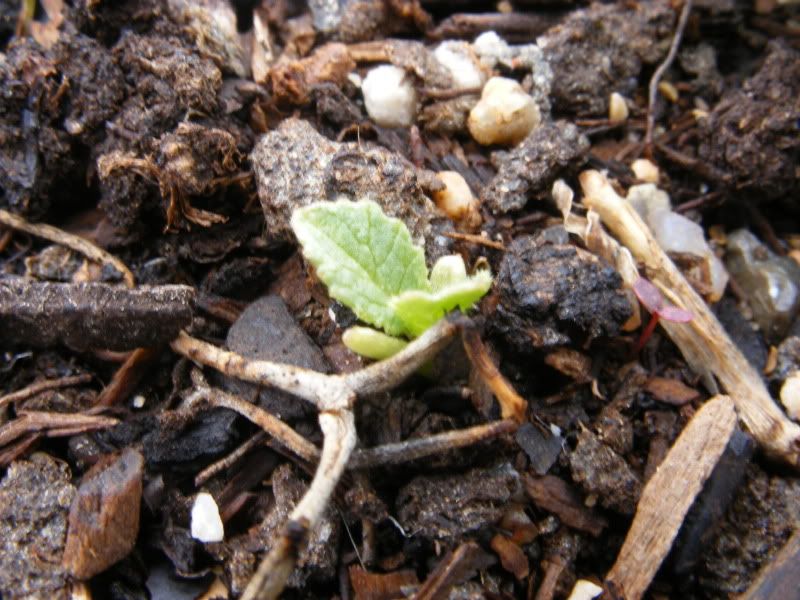 Carrot with round cotyledon.
Carrot with elongated cotyledon.
The radishes are doing great. They're beginning to look like actual plants. Time to thin out the dense spots a bit. Even more exciting in this bed, the carrots have sprouted! Back in my
college garden
I sowed carrots every year and only once got any to germinate so it's thrilling to have some success this year. I planted a rainbow mix this year so I've been looking carefully for differences in the leaves of my carrot plants. Some of them appear to have normal looking round cotyledon while others came up long and thin, like grass. I only assume that they are both carrots because they both came up en masse at about the same time and they're both now sporting their first sets of true carrot leaves. There's one other surprise in the radish-carrot bed. Something came up with the radishes that is clearly neither a radish nor a carrot. I let it grow because I was curious. I don't know what my in-laws planted in this bed last year but it looks like a very large grass right now. Any guesses?
The agave that I repotted is not looking so good. It, and most of it's pups, have lost their happy green-blue color. Now it mostly matches the wall. In the research that I've done since the repoting, it looks like I shouldn't have watered them all after I was finished and I should have left them under the porch instead of against a sunny wall. Live and learn, I guess. I'm still hoping that it's succulent constitution will give it the strength to survive.
Lastly, two weeks ago I threw some seeds into the planter around the mailbox out front. I didn't record the varieties and threw away the seed packets so I don't know exactly what I put in there. I know there were some nasturtiums because, as I've said before, I'm curious how they do in our dry climate and I wish that everything I planted I could eat. There were also some snapdragons because their color matched the nasturtiums and I know my mother-in-law likes them. I also added in some sort of red lettuce for two reasons. First, I thought the colored foliage would look nice with the flowers and secondly, I really like mixing flowers and vegetables. The second reason goes against my mother-in-law's gardening ideas so I guess a minor act of rebellion is a third reason. We'll see if she notices. Yesterday, I noticed that something, one tiny little cotyledon, was poking out of the soil. It is, of course, way to small and immature to identify so we'll just have to wait to see what's coming up out there.
What is it?